Disney World on a Budget: 11 Best Money Saving Tips
Note: This post may contain affiliate links! Check our disclaimer if you need more info!


Believe it or not, you can visit Disney World on a budget. There are ways to save money at Disney World, and I've got 11 terrific tips for saving on your hotel, tickets, souvenirs, food, and more.
Planning a Trip to Disney on a Budget
Let's be frank: Disney World is expensive. Almost prohibitively so. For the average family, the amount of money needed for a typical Disney World vacation is way out of budget.
But this summer, we pulled off a miracle: we were able to treat the girls to a trip to Disney World and stay on budget!
Yes, that's right. We did Disney World on a budget!
While you applaud vigorously from in front of your keyboard [haha], let's cover our top 11 money-saving tips for your Disney vacation on a budget!
For general budgeting tips, be sure to check out our post on How To Afford Travel On Any Budget!
How To Save Money At Disney World
1. FIND INEXPENSIVE AIRFARE
If you haven't seen it already, we have a pretty thorough guide on how to plan cheap flights.
Read it, implement all of the tips, and find inexpensive airfare to Orlando. Saving on your flights cuts down your overall costs and gives more wiggle room in your travel budget.
For us, the best deal was via Frontier Airlines and their kids fly free deal. If you purchase their Discount Den membership, kids fly free with adults on select flights.
They hold pretty true to the "select flights" part so you will have to find flights that match your availability. Be sure to search neighboring and nearby airports for deals too!
Also, just note it is only one free kid per adult. So if you are traveling solo with two kids, you will only be able to get one of their flights free. It is still a tremendously good deal and well worth the annual fee for Discount Den membership.
2. DON'T STAY AT A DISNEY WORLD RESORT HOTEL
This tip seems to be hotly debated in most guides for planning a trip to Walt Disney World on a budget.
Some say you will miss the "pixie dust" if you don't eat, sleep, and breathe Disney World during your trip [especially if you are looking for Disney World tips for first timers] but how much of a value do you assign to that?
For the cheapest way to stay at Disney, choose a property nearby that provides a complimentary shuttle to the park. Some nearby hotels [called Good Neighbor Hotels] even offer the same perks like early admission and character dining at a fraction of the price.
We stayed at Holiday Inn Resort Orlando Suites-Waterpark and it was perfect. Our family room had a king bed in a room with a closed door and a bunk bed with a full at the bottom and twin at the top in an alcove.
There was also a sofa bed and a kitchenette in the living room. It was plenty of room for our family of five to be insanely comfortable for an extended weekend.
They had eating options on-site that offered free meals for kids. The hotel also provided a free shuttle to all the neighboring theme parks.
Click here to see other hotels in Orlando near Disney World.
3. PURCHASE DISNEY GIFT CARDS FROM TARGET USING YOUR RED CARD
It doesn't take much for me to advocate for a visit to Target but this recommendation is legit.
Target sells Disney gift cards that can be used to purchase Disney gear from their store, their website, and to purchase admission. And that's not the amazing part.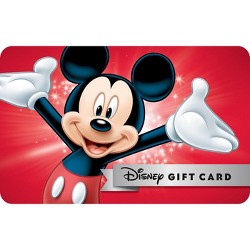 If you purchase the gift cards with your Target Red Card [debit or credit], you get a 5% discount.
That means you can get a $500 Disney gift card for $475. It might not sound like much, but if you are trying to figure out how to save on a Disney vacation, these savings really add up.
You can also get a slight discount on Disney gift cards at warehouse stores like Sam's Club or [occasionally] Costco. These stores require a membership in order to purchase. So if you aren't a member of either then Target is your best bet.
4. GET ALL YOUR DISNEY GEAR OUTSIDE OF DISNEY WORLD
The gift shops at Disney World really can be a one-stop shop. But if you're looking to visit Disney World on a budget, you'll want to get all your Disney gear outside of the parks. This is one of my best tips for how to save at Disney World.
You can get some pretty fancy Disney ears on Amazon.
If you want to wear a Disney themed outfit to the parks, Amazon also has the cutest Disney attire.
My favorite store in all the earth, Target, also has some nifty, inexpensive Disney gear.
If you want to wait until you arrive in Orlando, you can find discount Disney items at every Target, Walmart, Walgreens or CVS. There are even elaborate gift shops all over the city.
5. PURCHASE YOUR TICKETS EARLY
As a general rule, the further in advance you book your items, the more money you will save.
Booking early allows you to find the best airfare deals and have more choices for your dining reservations. Having more choices helps increase your chances of finding the best value.
Ticket prices go up closer to your desired visit date as well. Booking everything early is one of the best ways to save at Disney World.
6. LIMIT THE NUMBER OF DAYS FOR YOUR VISIT
Disney World tickets are priced to be slightly less expensive if you purchase multiple days' worth. With each additional day purchased, the price drops a little with the biggest discount if you visit 7+ days. Per ticket, you save money by staying multiple days.
But for your overall spend, you are better served by limiting your visit to one day. It will be your cheapest option and therefore the best option when planning a trip to Disney World on a budget.
Besides, there are plenty of other fantastic free things to do in Orlando besides theme parks!
7. STICK TO ONE PARK PER DAY
Disney World has a park hopper option that lets you visit multiple parks in one day. It's really handy for people who want to see things in multiple parks but have a limited amount of days.
However, it really inflates your ticket price. As of the writing of this post, the park hopper option is ~$65 per day per ticket.
When you're trying to save money at Disney World, that extra fee can really hit your expenses hard.
Besides, it is time-consuming to move from park to park during the day anyway. That time can be better used waiting in line for a ride. So save yourself some money and stick to one park per day.
8. SKIP ALL THE EXTRAS
Character meals, MagicBands, meal plans, and park hopping all sabotage your Disney vacation on a budget. Yes, some of these options are nice to have but all the niceties come at a cost — usually a very high one.
If you're looking to do Disney World on a budget, skip all the extras.
9. DON'T BOTHER WITH GENIE PLUS OR LIGHTNING LANE
Disney has discontinued their FastPass program and now offers two paid services called "Genie+" and "Lightning Lane." To skip the line and have faster access to select rides, it will cost you.
Priced at $15 (plus tax) per person per day, Disney Genie+ allows you to reserve a time window to use a specific attraction's Lightning Lane. You are able to make one reservation at a time during your day and it covers the majority of rides at the parks. But not all of them.
For Disney's most popular rides, (think Star Wars: Rise of the Resistance and Avatar: Flight of Passage) you will have to pay $7 – $15 per person per ride for access to Lightning Lane. Note that you don't need to purchase Genie+ to get access to Individual Lightning Lane reservations for the most popular rides (usually 2-3 rides per park).
Unless there is a ride that is an absolute MUST for your trip, you'll save money if you skip the Genie Plus and Lightning Lane options.
However, you can use the MyDisneyExperience App and Disney Genie service for free.
Disney Genie (not PLUS) is a free virtual trip planner that lets you select your favorite rides, find characters, see wait times for rides, and even make restaurant reservations. The Genie will continually update during the day to help you make the most of your time at Disney.
It can be confusing because the names are all similar, but just remember that the Genie is free – everything else is paid.
10. LOOK FOR A COMBO DEAL
If it fits your Disney World budget and you do plan to visit the parks on multiple days and/or stay at one of the Disney World Resort hotels [and it fits your budget], then look into combo tickets from other sources like:
Since these are third party sites, some of them require you to book with them at least a week or two in advance. So if you are doing this last minute, book directly with Disney.
11. BRING YOUR OWN FOOD AND DRINKS
We've all seen the cutesy pictures on Instagram of the waffles shaped like Mickey or seeing his smiling face on a hamburger bun. But that adorable face on your burger can cost you twice the price of a non-Mickey faced hamburger.
Don't get caught in the hype when eating at Disney World on a budget! Save your money and bring your own food!
One of the perks I like about Disney World is its generous outside food and drink policy. You can bring in any foods that don't require heating so load up with all the snacks, sandwiches, and drinks your backpack can handle!
And don't forget a refillable water bottle!
Those are our top 11 money-saving tips for Disney World on a budget! What are your favorite tips for saving money at Disney?