Rome with Kids: Itinerary & Recap
Note: This post may contain affiliate links! Check our disclaimer if you need more info!


This is a recap of our trip to Rome with kids.
Our second official Spring Break Family trip was a week split between Rome, Venice, and Milan, Italy. If I had to pick one word to describe the entire trip it would be: EPIC!
Seriously, Italy is an amazing country and we can't wait to return!
Disclaimer: I love agendas. I love knowing what to do and when to do it for every moment of my life. My girls do not. Somehow, in all their glory, their naps and hungry bellies always seem to put my best laid plans to rest. Solution? Realize the destination is the agenda, create a loose framework, and go with the flow.
[Remember the things I learned from traveling overseas with kids?]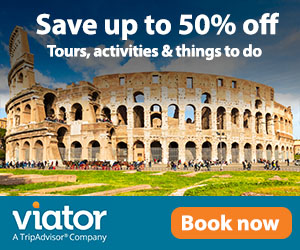 ---
[toc content=".entry-content" headers="h2, h3″]
DAY ONE: Settling in and Checking into our Airbnb
We landed in Rome late in the evening so this day was dedicated only to arriving, getting settled, and eating. :)
Airbnb: 2 bedroom, 1 bathroom, near Trevi Fountain.
Overall Rating: 3/5 — convenient location but would not stay again
We did things a little differently this go around and finally gave Airbnb a shot. Our apartment was spacious in a perfect location but we found ourselves missing the luxuries of a hotel. Things were dusty, our bed was extremely uncomfortable, and the number of towels we received [without an extra charge] was limited. There was also an incident with a roach and my newly opened box of Girl Scout Caramel Delite cookies. That particular wound still feels too fresh so we won't speak of it.
You can see a video of the apartment on our Instagram page.
On the plus side, it was definitely a learning experience for us! Interested in things we learned? Here are the Five Questions to Ask Before Booking Airbnb.
---
DAY TWO: The Colosseum, The Spanish Steps, the Trevi Fountain, Exploring the Area
The Colosseum
We started the day visiting the the most monumental monument in Rome — the Colosseum! The exterior of this place is a madhouse. There will be people looking to get in, people looking to sell you things, people trying to take you on a tour, and people just hanging out. Do yourself a favor: hug the kids close and ignore them all.
Purchase your tickets online and in advance. At the time of this post, folks under 18 were free [YAY for free things for kids!] and adults were only 12 Euros. Highly recommend the guided tour given by the Colosseum folks. It is inexpensive and will provide you with a separate line. Not only that but you'll learn way more about the Colosseum than you would on your own.
Viator also provides a pretty great tour that will allow you to skip all the steps below! Book skip the line tickets for the Colosseum and VIP Tours.
If you purchase through the Colosseum, you will stand in the queue three times:
To pick up your tickets at will call: this area is to the right of the building at a small kiosk that sells tickets. Stand to the left — MUCH shorter — side of the line
To go through security: this line is outside the building and will wind through to inside. If you have a scheduled tour time, your line is on the left and will be much shorter.
Lastly to get through the turnstile to actually reach the fun stuff in the building
Tours through the Colosseum come with an assigned entrance time. You cannot enter the line for security [aka line #2] until about 5 minutes prior to the time on your ticket. If you happen to make it through security in less than 5 minutes, you won't be able to get through the turnstile [line #3] to actually enter the attraction until the exact time on your ticket.
If you decide to take the guided tour bring your own earphones! They might run out like they did for us.
While we still think the tour is worthwhile, smaller kids [okay, some of the big ones too] might not like the standing. Or the stairs. Or the talking.
If you're feeling ambitious, power on to tour the Forum! It's included in your ticket with the Colosseum. If your kids are sick and tired of being sick and tired like ours were, grab something to eat at one of the many restaurants in the area! Your admission to the Forum is good for two consecutive days from the first use so you can always come back tomorrow.
After this, the girls were pooped, so we headed back to our hotel for a long midday nap. We always try to make time for a nap on our first full day of international travel. Jet lag is no joke! Well rested kids + well rested parents = happy family trip!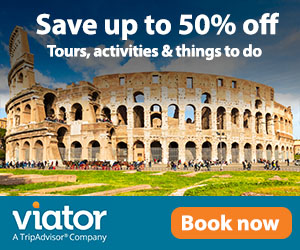 Spanish Steps
That evening, we visited the infamous Spanish Steps. Definitely worth going to say you went but in all honesty it was just a staircase. The girls were less than impressed. BUT the perks are 1. it's a cool area, 2. we heard about 15 different languages while going up and down said staircase, and 3. we met some really nice people. Something about that area makes everyone so social :) If you have the time, there are a few neat attractions around the place too like Piazza del Popolo.
After, we grabbed dinner at the girls' favorite "restaurant" in the world: McDonald's. Don't boo and hiss at me! It's a vacation tradition! Seriously though, McDonald's in Europe is really cool. Plus, the toy from their Happy Meals double as a trip souvenir :)
We took the scenic route back to our Airbnb and stopped at the Trevi Fountain, a neat cioccogelateria [chocolate shop] called Venchi, and took in the sights before calling it a night.
---
DAY THREE: Trevi Fountain [yes, again], the Pantheon, Piazza Navona, Campo de Fiori, Trastevere, Vatican City, Castel Sant'Angelo
Trevi Fountain
Our Airbnb was really close to the Trevi Fountain so we stopped there several times during our trip. It's seriously one of the most beautiful fountains I've ever seen. BUT it's insanely crowded. Early in the morning? Crowded. Midday? Wall to wall. In the early evening? Packed. In the middle of the night? Populous. I'm running out of synonyms but you get the point. There's a lot of dang people there at all times of the day.
Someone said to go there as the sun comes up. If you can swing that for the photo opp then God bless you. For us, we settled for pictures on the side and from the very back. If you can get close, be sure to throw a coin in the fountain and make a wish!
The Pantheon
From there, it was a short walk to The Pantheon. The Pantheon is a old temple that is now a church in the middle of Rome. It's most famously known for the huge hole in the ceiling [called an oculus] to let light in. Before visiting, we watched a ton of YouTube videos about the place and none of them prepare you for the beauty of this building. It was a quick visit [and free!] .
Which was perfect for us because the kids were bored after the first 10 minutes of our visit. It is still considered an active place of worship so they have frequent [very frequent] reminders to be quiet. Honestly, I was tempted to borrow the recording, blast it at our house, and pray for the same affect.

Piazza Navona
After the Pantheon, we took the 10-15 minute walk to Piazza Navona. If the family is up for it, I highly recommend walking as much as you can. It's a very walkable city and you see so many cool things along the way. And at the very least, you can easily spot some gelato places to try :)
Piazza Navona is an open square in the middle of Rome filled restaurants, fountains, street vendors, and musicians. This was undoubtably my favorite part of Rome. In fact, if we return, I want to stay right at the piazza. The energy was very lively, upbeat, and we just simply loved it. I've heard the restaurants around the square are very expensive but we did not dine at any. Instead, we looked up the history of the Fountain of the Four Rivers, took a ton of pictures, and danced along with the musicians.

Campo de Fiori
We'd heard a lot of good things about this open air market filled with fruits, vegetables, spices, and more. It is definitely a sight to see — and very aromatic — but this one was a dud for our girls. Maybe it is because the Covent Garden/Apple Market in London set our expectations really high. Whatever the reason, we found this area to be very noisy, crowded, and condensed. None of these are deal breakers but not the ideal situation when trying to keep track of the kiddos. There were also a lot of vendors calling Phil "Kobe Bryant" but that's a story for another day.
This feedback doesn't mean you shouldn't visit though. Just means I wouldn't include it on your "must do" list when visiting with kids.
Either way, it is a neat place with lots of goodies available for purchase!
Trastevere
It is an easy [and scenic] walk from Campo di Fieri to Trastevere so we decided to hoof it. Having the opportunity to stop for gelato along the way was an easy selling point as well.
Trastevere is mostly known as the place for Roman nightlife but during the day it is home to some of Rome's best restaurants. We had one of the best meals of our trip at a small restaurant there called Pimm's Good. Don't you love it when a place lives up to their name? Because Pimm's Good is really darn good. They also have a nice mix of American and Italian food which comes in handy when you're craving a slight variation in your Italian induced diet of pizza and pasta.
After lunch, we explored the neighborhood to take in the sights. If you're up for it, you can climb the Gianicolo hill to get a birds eye view of the city. Otherwise, just walk around, sit in a piazza, and grab some gelato.
Be mindful of the streets here. There are no sidewalks so cars and people share the same — extremely narrow– space. There were several times where we had to clutch the kids close and squeeze past some moving cars but YOLO. Worth it!
Vatican City
Vatican City — or as I like to call it Catholicism Central — is one of the major tourist attractions in Rome. Even though it is located within Rome, it is technically a city/state/country of its own. Yeah, you read that right. All hail the power of the Catholic church.
The most popular draw of the city is St. Peter's Basilica, St. Peter's Square, and the Vatican Museums [including the gardens, Sistine Chapel, and more]. Visiting all the areas is easily a full day and the way our kids' attention spans are set up, that wasn't an option for us. Instead, we prioritized the things we really wanted to see which were St. Peter's Square and the Sistene Chapel.
The entire shebang in one word? Breathtaking.
The place is huge. Be prepared for crowds. Wear comfortable shoes. It is an active place of worship so please mind their dress code. Like most places these days, you would be better served purchasing tickets online in advance. This will allow you to skip the ticket line [go to the Cassa Online window on the left] and cut down on a bit of the confusion when you arrive.
Prices vary depending on where you want to visit. They have several options available including a night time visit, an early morning visit [with breakfast!], and so much more. They also cater to families and offer a family ticket package for 2 adults + 2 kids. Kids 5 and under are free so calculate which is the best deal for you.
You can get more information on their website: Mvsei Vaticani.
You can also see our entire trip costs here: Family Exclusives | Downloads
Please note that you can't skip directly to the Sistene Chapel. You have to walk through the entire thing which can take anywhere from 1-2 hours but it is worth the walk. Imagine countless hallways lined in gold, intricate tapestries, and plenty of statues featuring ample bosoms and tiny wee-wees. My kids were in heaven. So were we. Worth it!
There are several other areas in the Vatican Museum worth visiting like the gardens, the Rafael rooms, and more. Many sites recommend you book a tour but we bypassed this option [because budget] and did just fine. If you decide, however, that winging it isn't for you, there are many great options available like these:
If you're looking for a penis-sculpture-free visit, St. Peter's Basilica is right next door. Again, this is an active place of worship so please be mindful of that. If you're visiting there directly from the Sistene Chapel, be sure to take the exit on the right [instead of the left like everyone else]. If you take the standard exit, you will have to walk around to the front of the complex and go through security again. So exit stage right instead.
Visiting the basilica is free but if you want go up to the dome it costs approximately 8-10 Euros [cash only]. Small price to pay for an eagle eye view of Vatican City though!
Whichever spots you visit, make sure you leave some time to sit in St. Peter's Square. Grab some gelato from one of the shops lining the area and bask in the glory of the space. Listen to see how many languages you can recognize. Say a small prayer. Whatever tickles your fancy.
Castel Sant'Angelo
Castel Sant'Angelo is located a short way down the street from the main street running to St. Peter's Square. We decided not to go inside [again, budget] but it is pretty picture worthy even from the outside. The area is usually surrounded by performers so enjoy the atmosphere! As with most tourist attractions in Rome, watch your pockets and your purses. Also, please decline to sign any petitions — no matter how many times they tell your husband that he looks like Lebron James. They are usually just a distraction to rob you.
The following day, we departed Rome for Venice! You can read about our trip to Venice here: Venice with Kids.
Have you been to Rome? Do you have anything to share? Feel free to leave a comment below!